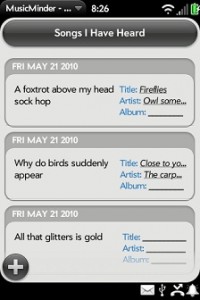 The alpha version of my first application, MusicMinder, is now complete.  This application is to help you keep track of songs you hear while out and about.  When you start up the app, you are presented with a list view of the current songs, which display the lyrics you entered, along with the location at which you heard the song.  Tapping on the plus button at the bottom allows you to add a new song to the list.  from here you can enter in where you head the song, some of the lyrics, as well as the artist, title, and any additional notes you wold like to save.  The button on this page do exactly what you would expect.  Click on the search lyrics button, and you are taken to a Google search of the lyrics you have entered.  Click on the Youtube button to do a Youtube search, and click on the Amazon button to search amazon's mp3 store for the song.  Press save or do a back gesture to go back to the list of all of your songs.  Tapping on any song lets you edit any of the information that you have about it. Swiping a song allows you to delete it from the list permanently.
The UI is very bare, but all of the core functionality is currently present.  When I feel there are as few of bugs as possible, I will look into getting it put on the PreCentral homebrew feed.
I decided to go ahead and start over from scratch, because I was did not enjoy using Ares to create the application.  The second time aroudn did make many things much easier.  As you might recal from my last post, the main thing I had left to do was figure out hwo to save the data.  This turned out to be a bit trickier than I expected.  I originally intended to store all of the data in a JSON, however after starting, I realized that it wodul be must easier to store an array of JSONs.  This is actually the native format that the list uses in WebOS, so storing everything in this method made life much easier.  All in all, it took about a days work of messing around to figure out both data storage, and how to populate a list with said data.  I am fairly pleased with how the app turned out, and quite surprised at how easy it really is to develop for this phone.  I think I am starting to get the hand of java script, so hopefully I will be able to start developing more applications fairly quickly.
I'm completely open to suggestions.  Please comment on the youtube video with any feedback or suggestions.