MusicMinder – Beta is an app to help you keep track of songs you hear while out and about. When you hear a new song, you can add it to you MusicMinder song list to help you remember everything about it, and to help you look up more information about it too!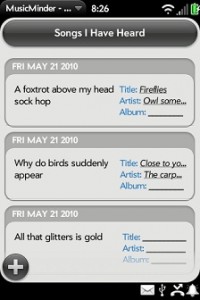 First, type in as much of the lyrics as you can remember. You can stop here, or add as much detail you would like including artist, song title, and any extra notes you might have. For each song, there are simple buttons to look up more information about it! Tap on the "Search Lyrics" button to perform a quick search for the lyrics. Tapping on the Amazon or Youtube buttons will search the respective apps for the song as well (Amazon MP3 store required for this to function). Everything is saved into a list so you can quickly access all of the information later. Check the Help menu in the app if you have any questions.
Need help with MusicMinder – beta? Check it's
support page
.